At Westwood Dental, our team members are always professional and kind. Each is detail oriented so as to provide efficient dental care and services to every patient. We are dedicated to helping our dentist provide high-quality dentistry in Draper, Utah, and offer translation services if needed to patients with language barriers. Call 801-716-7006 if you have any questions or concerns about your care, or to speak to a team member about your next visit with Dr. David Reynolds.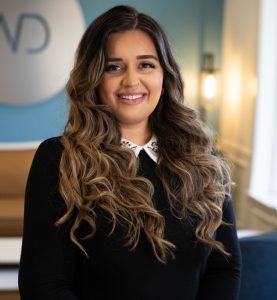 Sabiha joined the practice in October 2021! She graduated from the University of Utah and has worked in both dental and medical settings. She is passionate about the great work we do at the office and is excited to be involved in fostering patient relationships, encouraging oral health education and providing the best level of care possible! She has four sisters and a cute Samoyed named Pepper.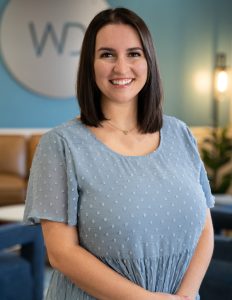 Laura
Patient Care Coordinator
Laura has eight years of experience in the dental field and has worked in the operatory as well as the front office. She joined our team as soon as the office opened in 2018. Laura manages all things related to patient scheduling, insurance coordinating and billing to ensure that our office runs smoothly and efficiently. She loves getting to know our patients and helping them have a great experience with us from start to finish. Laura and her husband were married in 2015 and have recently welcomed a baby boy. When she is not at work, Laura spends her free time with her family, playing tennis or reading a good book.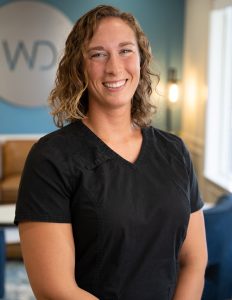 Alexis
Registered Dental Hygienist
Alexis has always had a passion for dentistry. Before dental hygiene school, she worked in the dental field as an assistant and also front desk coordinator. Alexis graduated from Fortis College in Salt Lake City in 2017. Her favorite part of being with our practice is that the Westwood Dental team is instantly welcoming and shares her values. Alexis loves getting to know our patients and working with them to reach health goals that give them a better quality of life. Alexis and her husband were married in 2010, and together, they have three kids: one daughter and two sons. She grew up in Colorado and loves being outdoors, especially hiking, camping and rock climbing. She also enjoys board games, reading and spending time with family.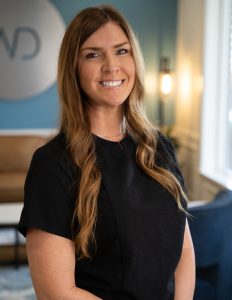 Lindsay
Registered Dental Hygienist
Lindsay graduated with honors from dental hygiene school at Colorado Northwestern in 2003. She has spent the last 17 years of practice in a variety of dental settings, including a periodontal specialty practice. She is excited to bring her years of experience and passion for educating patients about the importance of oral health to our practice! When Lindsay is not at the office, she enjoys being outdoors, biking, hiking and traveling to new places.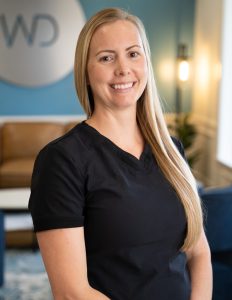 Sarah
Registered Dental Hygienist
Sarah graduated from Salt Lake Community College in 2014 with honors. She enjoys getting to know our patients and helping them feel welcome and at ease in our office while they are getting their teeth cleaned. She is excited to be part of an excellent team and to watch our practice grow!
Sarah has been married for over 12 years and has three children. Outside of the office, she enjoys baking, spending time with her family, canyoneering and co-ed softball.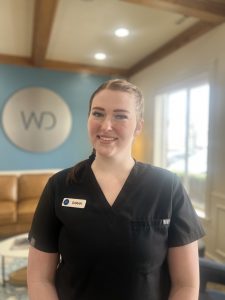 Sarah completed a dental assisting course in May of 2022 and has been assisting ever since. She is currently waiting to be accepted into school for dental hygiene. Sarah loves how Westwood Dental is a little office family that works hard to take care of each other and their patients. To help our office and patients, Sarah has broadened her technical roles and cross-trained in other departments to help out as needed.
Sarah is the only girl in her family, and she has two older and two younger brothers. In her free time, she likes to do arts and crafts.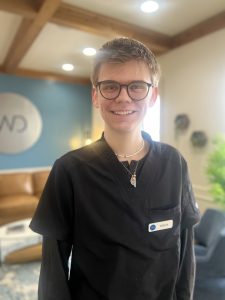 Knox started at our office in January 2023, and he is currently a senior in high school. He enjoys being able to work with his hands and interact with patients and coworkers. He is a middle child with two older brothers and two younger sisters. In his free time, he enjoys jewelry making, working on cars and baking.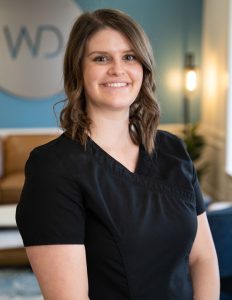 Savannah
Clinical Dental Assistant
Savannah joined our practice in January 2021. She went to dental assisting school at Assist to Succeed and graduated with her dental assisting certification. Savannah is attending Utah Valley University studying pre-dental hygiene. She assists the doctor in procedures, runs the back office, and is also able to jump in and help the front office when needed. She loves helping patients feel comfortable and ensuring that treatments run smoothly so that our patients can be satisfied with their quality of care. Savannah is recently engaged and enjoys spending time with her friends and family.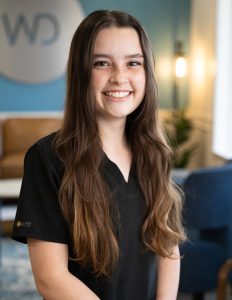 Sophia is currently attending Utah Valley University, working on getting her bachelor's degree in forensic science. She hopes to graduate in Spring of 2025. She received her dental assistant and CPR certifications from Assist to Succeed at Center Creek Dental. Sophia loves her coworkers as all of them do their best to help each other out, which creates a great work environment. She contributes to our office's success by helping Dr. Reynolds with his patients, guaranteeing cleanliness throughout the office and doing anything else needed to provide a comfortable visit for our patients.
Sophia's family consists of her two older brothers, older sister and family dog. In her free time, she enjoys learning about anything in the medical field and especially learning about the care one gives to their teeth can affect other aspects of health.