A dental implant is a titanium-based screw used to replace a single or multiple missing teeth. It is surgically positioned below the gums and is connected to a crown or bridge to restore the tooth structure above the gumline.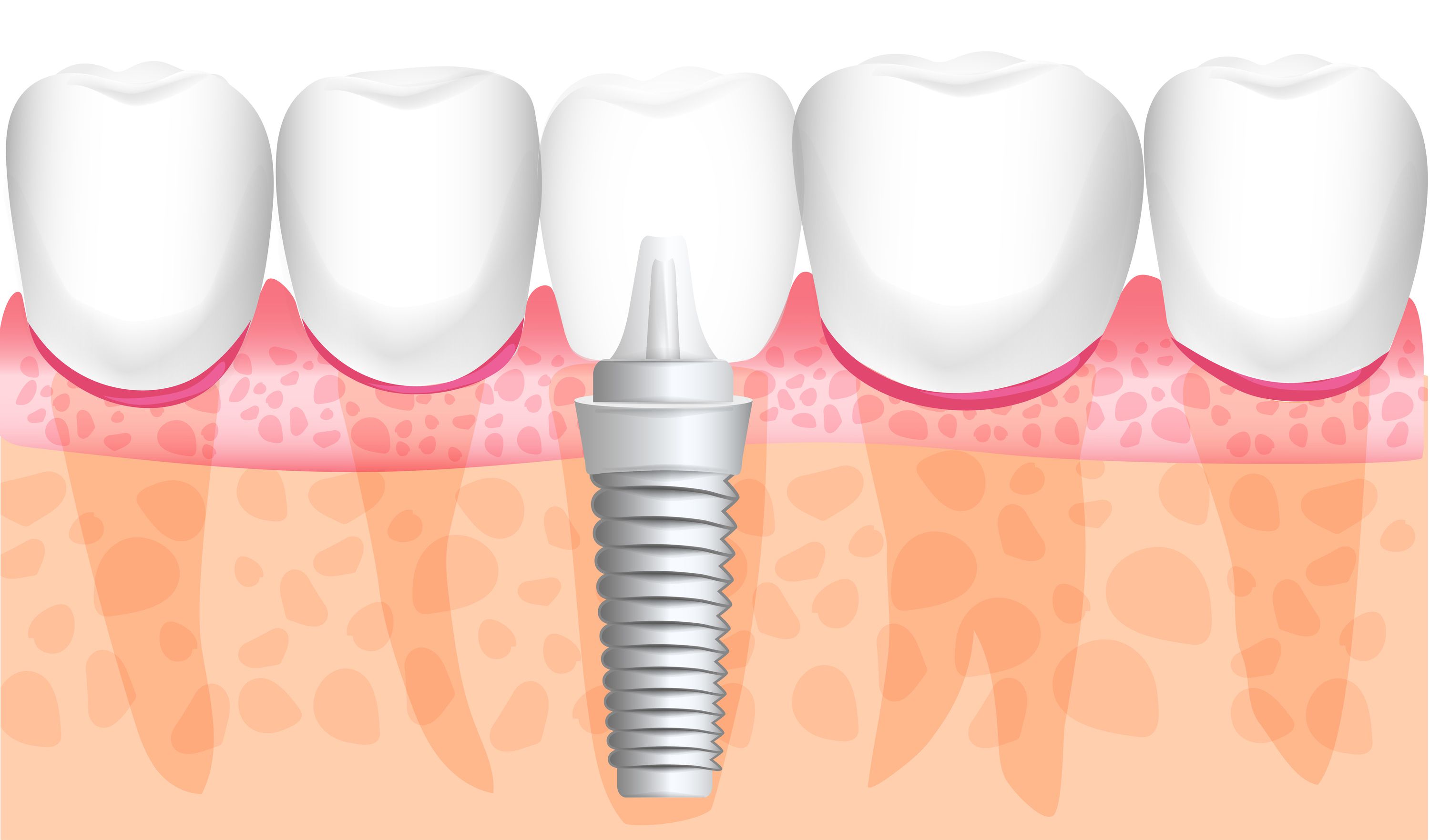 What are the benefits of dental implants?
Dental implants are the best when it comes to replacing missing teeth. They provide many benefits over other dental prosthetics and are a dentist's best recommendation for treating tooth loss.
● Dental implants fill in the gaps left by missing teeth and restore the cosmetic appeal of your smile. It boosts your self-esteem and confidence.
● Not only do dental implants replace the visible portion of the tooth but also its roots. This helps in preserving the bone structure.
● When you lose teeth, the underlying bone structure starts to recede and dissolve. As a result, the facial muscles sag and you start looking older than your actual age. Dental implants provide the underlying jawbone the required stimulation and help the facial contour to stay in shape.
● They provide sturdy support to the dental restoration they are attached to. The dental restoration stands strong in its position and the risk of it slipping while talking or eating is eliminated.
● Tooth loss causes gums to be exposed to bacteria and plaque, which leads to gum disease and other oral health issues. Dental implants cover the gums and reduce one's vulnerability to oral health issues.
● Tooth loss causes gaps between teeth. As a result, the adjacent teeth start shifting from their position and tilt into these gaps. It causes malocclusion and other orthodontic problems. Dental implants help in closing these gaps and prevent future orthodontic risks.
● Dental implants are the closest you will ever get to natural teeth. They look, feel, and function just like natural teeth.
● Unlike other dental restorations, the placement of dental implants does not require the neighboring teeth to be filed or altered.
● Gaps left by missing teeth cause lisp and chewing difficulties. Dental implants fill in these gaps and remove the lisp and also restore your chewing ability.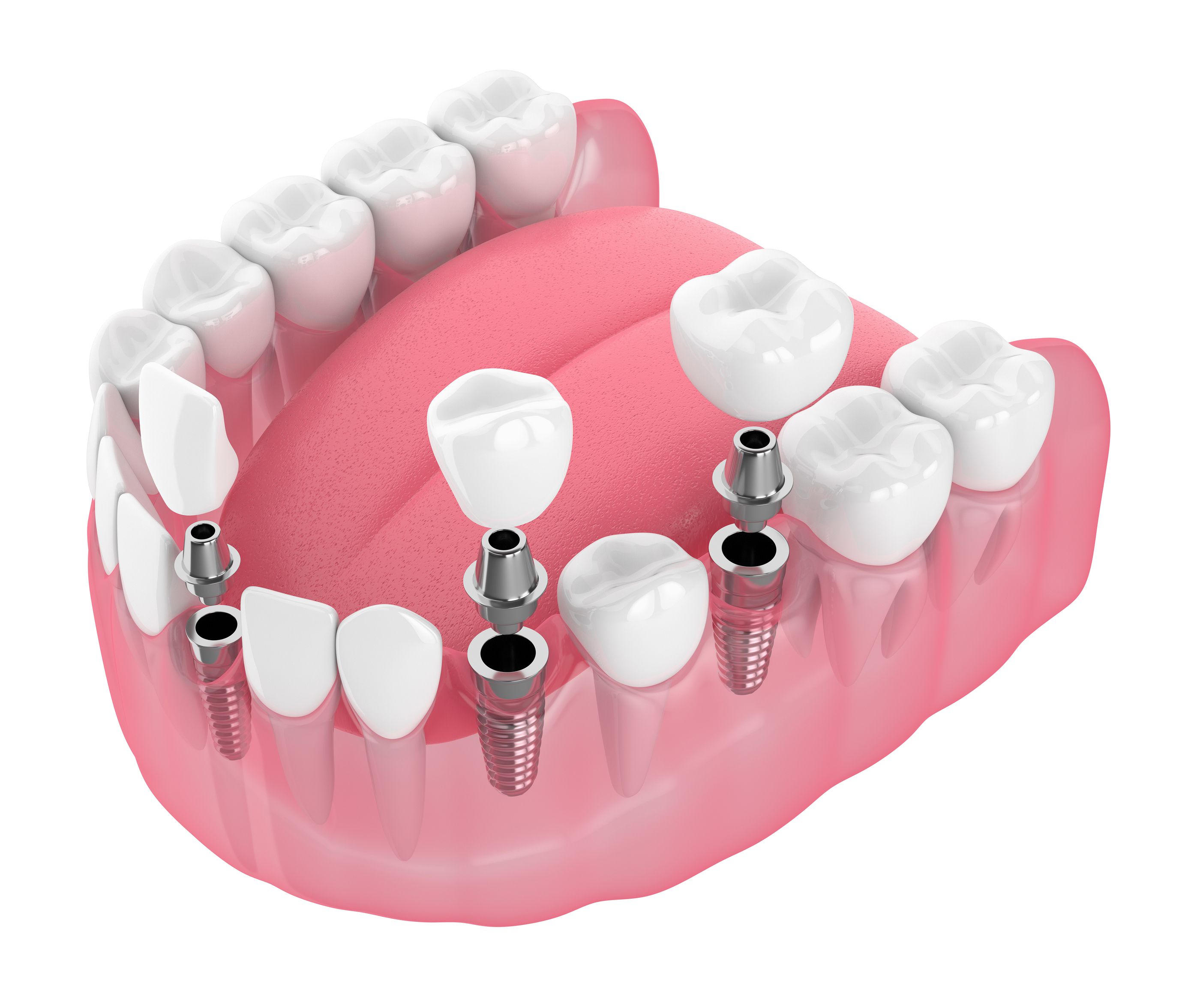 Can anyone get dental implants?
Yes, all people in good oral and overall health can get dental implants. However, one also needs to have good jawbone density to ensure a successful dental implant procedure.
Tooth roots provide stimulation to the underlying jawbone and keep it sturdy and healthy. When one suffers from tooth loss, the underlying jawbone loses the required stimulation and starts to recede. If a patient lives with missing teeth for a long time, the underlying jawbone shrinks and becomes incapable of holding a dental implant in place. As a result, in such cases, dental implant procedures fail.
We, at Westwood Dental, always determine a patient's jawbone density before performing a dental implant procedure. In the case of low jawbone density, bone grafting is performed.
Healthy bone tissues from a donor area are transplanted to the recessed jawbone to improve its density and height.
How are dental implants placed?
Dental implants' placement requires two visits to the dentist's office. The placement procedure is described in the following steps:
First Visit
1. A comprehensive oral examination is conducted to assess your oral health. Also, the area with tooth loss is assessed for jawbone density. If the underlying jawbone is healthy and has the required density and height, a custom treatment plan is developed.
2. Digital prints of your mouth are obtained to design a dental restoration that matches the color, shape, and size of the neighboring teeth.
3. The area to be treated is anesthetized to avoid pain and discomfort during the procedure.
4. An incision is made in the gums and a hole is drilled in the underlying jawbone. A dental implant is placed in the hole and the gums are sutured back.
5. The healing process takes four to six months. During this time, the dental implant fuses with the surrounding bone tissues and becomes an integral part of the jawbone.
Second Visit
6. After the dental implant has successfully fused with the jawbone, you will be called in for a second visit.
7. An abutment is attached to the dental implant, which connects the dental implant to a dental restoration.
8. A custom-designed crown or bridge is attached to the abutment to restore the visible portion of the tooth.
How long do dental implants last?
Dental implants last a lifetime. Teeth restored with dental implants do not require special care to stay in optimal health. They are to be treated like natural teeth. Regular brushing and flossing with a bi-yearly professional dental cleaning should suffice.
At Westwood Dental, in Draper, Dr. David Reynolds and his team employ the best practices of modern dentistry to address your oral health issues. Using state of the art technology, they perform full mouth rehabilitation to provide you the finest smile makeover in Draper, Utah.
Schedule an appointment with us at 801-438-3332 or visit our dental practice at 11576 S. State St., Suite #1201, Draper 8400. You can also email us at [email protected]